Book me for a concert!
I love to help create warm and festive occasions at libraries, schools, art centers, museums, or even in your own home.  My performances combine harp, singing, Irish traditional tales, poems, piano, Irish flute, tin whistle, and a lot of laughter.
People tell me often that they leave one of my shows or workshops feeling something between wildly hopeful and elated.  We have a good time!

Contact me at kate@katechadbourne.com to explore the possibilities.  I welcome all inquiries, inspirations, and wild imaginings!

I just wanted to thank you and let you know how thrilled I was about how well your concert went on Sunday. I have heard nothing but wonderful things from both staff and patrons! ~ Watertown Free Public Library
Joyous! What word better describes your concert? You have a marvelous knack for engaging the audience and they absolutely loved you, and so did I. ~ Merrimack Public Library
You were a great asset and fabulous contributor. Thank you so much for sharing your stories, music, energy and enthusiasm for the Irish culture. You mesmerized our Lower School community! ~ Waynflete School, Portland, ME
Kate, I can't get over how seamlessly you wove together music, storytelling, singing, Irish language, Irish culture, and discussion of stories–let alone the generous, joyful creativity that threaded through it all! Your performance was everything I hoped for, and even more. ~ Holy Cross University
Thank you again for coming to our STEAM day.  You had the students and staff captivated with your stories, music, and poetry activities! ~ Karen Gingrich, Teacher and Coordinator of the STEAM DAY at Belmont Middle School, Belmont, NH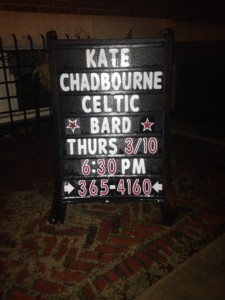 Kate has performed throughout New England including:
Libraries, Festivals, Conferences, and Museums ~ Castle Hill (Ipswich); The Haffenreffer Museum (Providence); The Mariposa Museum (Peterborough, NH); The Goodnow Public Library (Sudbury); The Irish Cultural Center (Canton); The 1714 Meeting House, Lynnfield Historical Society; Smithsonian Odyssey Tour of Ireland; Sharing the Fire Storytelling Festival; The Saco Museum (Saco, ME); Cary Memorial Library (Lexington); Maine Writers' Conference; Revels Salon Series, Commander's Mansion (Watertown)
Colleges and Universities ~ Harvard University; Boston College; Brown University; University College Galway (Ireland); Magee College, University of Ulster (Derry, Northern Ireland); University College Cork (Ireland); Johnson & Wales University; Providence College; Bridgewater State College; Plymouth State College; Western Michigan University; Celtic Institute of North America
Art Centers, Coffeehouses, and Concert Halls ~ Club Passim (Cambridge); Red Door Coffeehouse (Framingham); The Center for Arts (Natick); First Parish Church (Watertown); Amazing Things Art Center (Natick); Bookseller Café (Medford); The Emerson Umbrella (Concord); Springstep Performing Arts Center (Medford); Portland Stage Company (Portland, ME); The Performing Arts Center (Westford); Café Ziba (Acton); The Java Room (Chelmsford); The Side Door Coffeehouse (Jamaica Plain); King Hooper Café (Marblehead)